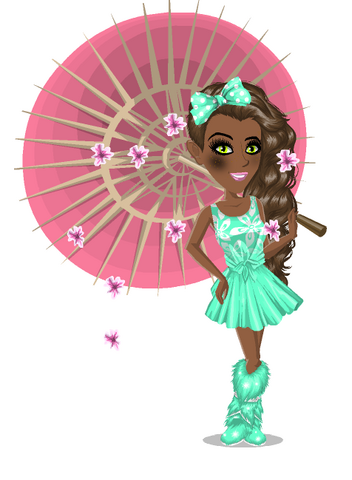 About WolfBloodsamazing
WolfBloodsamazing is just an average moviestarplanet user whom is a level 19 ace moviestar  celeb. She has dark chocolate brown skin,yellow eyes,black blush and dark brownish hair. WolfBloodsamazing is always seen to be wearing light aqua green and white on most of her clothing because it's said to be her favorite color. However the only clothing that is not light aqua green in her wardrobe is her newbie clothes and traditional clothes because most of the time when it's a certain holiday she shows her respect towards the tradition by wearing their main colors like red and green for christmas,blue white and red for the 4th of july, orange and black for halloween and pink white and light yellow for easter.Most of the time her outfit's are always stylish and girly because she loves to dress well,she barely wears any tomboy clothing cause she's not that big of a fan of those styles. Wolf's greatest friends are known to be teeteeann,purple101101,lilyson29,>itsangie<3, forever fun 123 and mybeau.Wolf is a ~mybeaur~ and is said not to be a big fan of the team pump,but either way she remarked to get to know anyone and give people a chance no matter what team they are.She is said to befriend mybeau in the summer of 2014 or in 2013 and was to be the happiest moment of her life. As for her other friends she usually met them in chat rooms or games like teeteeann,purple101101,and lilyson29.She has had extremely close bonds towards them,she has always spent time with them and is said to be the greatest friends in the world.Wolf loves to be kind to others on the internet no matter what. she is extremely kind,respectful,thoughtful,sympathetic,humorous and filled with empathy. Every time one of wolf's friend would leave or possibly even quit she would do anything in her power to make them stay or even support them,but most of the time she understands why they are leaving and mourns for them.Likewise Wolf has been witnessing countless cyber bullying towards the moviestarplanet users and everytime she sees that she feels angry. So she always stands up for them and reports the bully immediately,and most of the time after the dramatic fight she would try her best to soothe the victim and try to regain their happiness.Although even though wolf has the personality of an angel doesn't mean she has had a perfect life on msp wolf has been bullied herself. One time Wolf was playing a fun game of quiz and a girl said every question seemed easy but ended up getting every question wrong while wolf every one right. She probably got very jealous because she ended up calling Wolf the "N" word. Wolf was so angry,frustrated and hurt that she reported her and automatically got a message back from Moviestarplanet.additionally wolf used to be friends with a VIP girl named ab young 123. and one day wolf had very little starcoins about like 5 starcoins and she was so desperate for money because she wanted to buy a product for a friend. So she was so desperate she decided to ask for a greet and it was her first time. So to be kind she chatted with ab young 123 and respectfully asked for a greet in a way like she was asking permission. after a slight moment ab young 123 thanked her for being respectful and decided to give her a greet. Wolf thanked her but ab ended up saying she had no diamonds and wolf was gonna have to ask someone else for a greet. Wolf agreed and said she would never ask her again,but suspiciously ab said "ok well i gotta go it was nice meeting you". wolf said ok but after a few minutes wolf realized ab young 123 blocked her which caused her to be in shock.She went on all her back up accounts asking why she blocked her but instead of answering Ab rudely replied to her with insults like shut up or leave me alone. So wolf decided to defend her self choosing her words carefully adding quotes then blocked her.But that wasn't all another time wolf used to have a friend called CurlsrCute who had a best friend with the name of Luvs4ever<3101. CurlsrCute invited wolf to a sleepover bash that she was having in her room. wolf has remarked that she has never been to a sleepover so she wanted to experience it. Putting on her best pajamas she went over to curls room hoping to have some fun. But things didn't go as she has expected Curls,her friends,and everyone else abandoned Wolf and left her out in most of the activities. Wolf tried everything to get into the fun and conversations but nothing worked. Heartbroken she left.Since Luv was closer to Curls she asked her why they were leaving her out of the sleep over. Wolf waited patiently hoping for a supportive answer but instead it was not. Truly Luvs4ever<3101 gave her a hurtful answer. she ended up insulting her and complaining about why she was writing in her guestbook. Wolf tried to reason with her kindly but it wasn't working Luv continued to insult her and call her a bitch. After a lot more insults wolf got angry she talked to Luv furiously asking why she was being not only mean but a horrible friend she forcefully said that Curls would not approve her bullying behavior in between quotes and before Luv would insult her once more she blocked her and told curls everything.Besides the drama Wolf is known to make very hooking,creative and exciting movies,she also makes the cutest looks and gossip spread she's a major nerd at quiz only failing either one to zero questions wrong,yet she doesn't make as much artbooks because she feels that artbooks isn't her strong point.Indeed so Wolf is well known to be the greatest friend anyone could ever have.
Facts about WolfBloodsamazing
.Wolf Is 13 years old
.Wolf was a member of Moviestarplanet in 2012
.Wolf's real name is RoseMarry Springs
.Wolf's story is she was born on the continent of Africa and moved to the United Kingdom at age 7 and stayed there for 6 years where she fluently picked up the accent but later on moved to Minnesota. So instead of using the Moviestarplanet.co.uk she uses Moviestarplanet.com
.The first game Wolf played was the Game's called Disney Fairies and Free Realms made by SOE entertainment and Disney.Wolf (RoseMarry) loved Free Realms more than disney Fairies  but later on Disney Fairies closed way back in about 2012 and Free realms closed down in March 31st. Wolf was heartbroken and devastated until she found Moviestarplanet.which changed her life.
.Wolf's birthday is on the 30th of May 2001
.Wolf is hates it when people swear or cuss at others and despises  certain kinds of social media like Facebook,twitter,instagram,snap chat,skype etc.
.Wolf has a youtube account by the name of wolfbloodrocks and has uploaded three videos and one of them has made it onto the moviestarplanet youtube
.Wolf has always wanted to be an elite one year VIP she even asked her parents if she could have some no matter how scared she was but so far she hasn't gotten it
.Wolf gets her user from her favorite british TV show by the name of WolfBlood
.In real life wolf has been bullied for who she was and because of her kindness
.Wolf loves wise quotes and she loves the reply one of her friends said to her "VIP or not you are the most beautiful user i have ever seen"
File history
Click on a date/time to view the file as it appeared at that time.
Metadata
Ad blocker interference detected!
Wikia is a free-to-use site that makes money from advertising. We have a modified experience for viewers using ad blockers

Wikia is not accessible if you've made further modifications. Remove the custom ad blocker rule(s) and the page will load as expected.